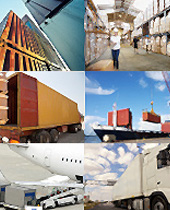 Transworld Transportation Company Ltd (TWT) was established in Taiwan in 1984, and since that year has been consistently growing and today becomes one of the leading freight forwarding company in Taiwan , China and Vietnam & Cambodia. We are now offering world-wide clients a complete integrated logistics service.

TWT Vietnam ( founded 1996 ) and Cambodia branch offices ( founded 2001 ) can cover whole Vietnam including Ho Chi Minh, Hai Phong, Ha Noi and Danang as well as Sihanouk Ville , Phnom Penh in Cambodia. Our collective network enables us to offer competitively priced global transport solutions, combining market coverage as widely as any multinational competitor but retaining the advantage of genuine local market knowledge.

Our network operates in 50 countries with strategic partners around the world and we are striving for the convenience of our clients. Those valuable agents and partners are developed with care and are long lasting.Your freight will be in our hands  & our local experts will offer you a complete satisfactory service.